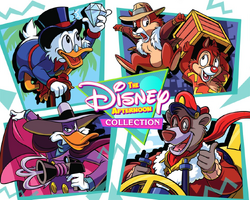 The Disney Afternoon Collection is a compilation video game collecting all of the Disney Afternoon-related games originally released for the Nintendo Entertainment System:
It was released for PC, PlayStation 4, and Xbox One on April 18, 2017 (ironically, it does not appear to be coming out for the Nintendo Switch or Nintendo 3DS). It includes Time Attack and Boss Rush modes for each game, as well as concept art, and sketches used during the games' original production. The games themselves also have a "Rewind" feature, allowing the player to turn the gameplay back a few seconds if they make a mistake.
Ad blocker interference detected!
Wikia is a free-to-use site that makes money from advertising. We have a modified experience for viewers using ad blockers

Wikia is not accessible if you've made further modifications. Remove the custom ad blocker rule(s) and the page will load as expected.