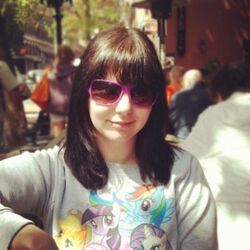 Sabrina Alberghetti is a storyboard and comic artist living in Vancouver, Canada. Best known for her storyboarding work on the popular Hasbro television cartoon My Little Pony: Friendship is Magic, she has also been a recurring artist for Disney-based comic books, particularly during the Boom! Studios era. She primarily served as a cover artist for Boom!'s Darkwing Duck comic book, and even illustrated the story "Toy With Me" for Darkwing Duck Annual #1.
Cover gallery
Edit
External links
Edit
Ad blocker interference detected!
Wikia is a free-to-use site that makes money from advertising. We have a modified experience for viewers using ad blockers

Wikia is not accessible if you've made further modifications. Remove the custom ad blocker rule(s) and the page will load as expected.