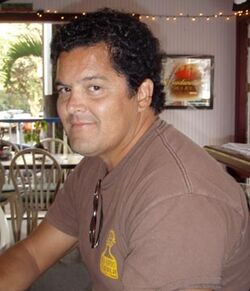 James Silvani is a comic book writer and artist who has provided artwork for Disney comic books. He has been working as a freelance artist since 1994.
Silvani is perhaps best known to Disney fans for having illustrated every issue of Boom! Studios' Darkwing Duck comic book. Of all the stories written for the comic, the only one Silvani did not draw was "Toy With Me" in Darkwing Duck Annual #1, which was instead drawn by Sabrina Alberghetti. A recurring gag in Silvani's artwork for the Darkwing stories was including cameo appearances by characters from various Disney animated films. Silvani redrew much of his art for the comic in the Darkwing Duck: The Definitively Dangerous Edition book reprinting the majority of the title, and will return to drawing Darkwing Duck in the comic's continuation under Joe Books.
In addition to the Darkwing Duck comic, Silvani also drew cover artwork for issues of other Disney comic books published by Boom! and later IDW Publishing. Silvani regularly draws artwork featuring Disney's animated characters, regularly posted on his Tumblr page. Outside of Disney, Silvani has also drawn artwork for other companies' franchises such as Transformers, Teenage Mutant Ninja Turtles and Animaniacs, as well as drawing artwork for the stories written for Ape Entertainment's Richie Rich comic book.
Cover gallery
Edit
External links
Edit
Ad blocker interference detected!
Wikia is a free-to-use site that makes money from advertising. We have a modified experience for viewers using ad blockers

Wikia is not accessible if you've made further modifications. Remove the custom ad blocker rule(s) and the page will load as expected.