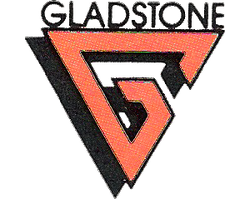 Gladstone Publishing was an American comic book publishing company that published Disney comic books from 1986 to 1990 and from 1993 to 1998. Named after Gladstone Gander, the company had its origins as a subsidiary of "Another Rainbow", a company formed by Bruce Hamilton and Russ Cochran to publish the Carl Barks Library and produce limited edition lithographs of Carl Barks oil paintings of the Disney ducks.
Reprints of classic Donald Duck stories by Carl Barks and Mickey Mouse stories by Floyd Gottfredson were the foundation of their output. Don Rosa, William Van Horn, and Pat Block are among the modern Disney comics artists who got their start at Gladstone. Some of the Van Horn stories had scripts by frequent collaborator John Lustig. The company also published translations of European Disney comic book stories produced by Egmont, Oberon and Mondadori. These included stories by such famed creators as Romano Scarpa, Marco Rota, Daan Jippes and Freddy Milton.
While still distributed on newsstands, their orientation toward the collectors market was visible in their inclusion of scholarly articles, mostly by associate editor Geoffrey Blum. Unlike the previous Disney comic book licensee, Western Publishing, Gladstone provided credits for the stories, printing them on the inside front covers of each issue; almost all Disney comic licensees since then (with the notable exceptions of Marvel Comics in the 1990s and Dark Horse Publishing in the 2000s) have done the same.
Gladstone's first four issues of Walt Disney's Comics and Stories (issues #511-514) each contained one story based on The Wuzzles. More notably, however, they would also publish the first DuckTales comic book, which would run for thirteen issues until April of 1990, when the Walt Disney Company chose not to renew Gladstone's license and instead tried publishing the comics themselves. When Gladstone regained the license for the comics three years later, they did not continue the DuckTales title, but they did reprint several of William Van Horn's DuckTales stories in later issues of Uncle Scrooge, as did their successor, Gemstone Publishing.
Gladstone had also planned on devoting an installment of their Gladstone Comic Albums series to Adventures of the Gummi Bears stories that had been produced overseas, and had even commissioned Daan Jippes to draw the cover art for it, but this particular book never made it past the proposal stage.[1]
References
Edit
External links
Edit
Ad blocker interference detected!
Wikia is a free-to-use site that makes money from advertising. We have a modified experience for viewers using ad blockers

Wikia is not accessible if you've made further modifications. Remove the custom ad blocker rule(s) and the page will load as expected.