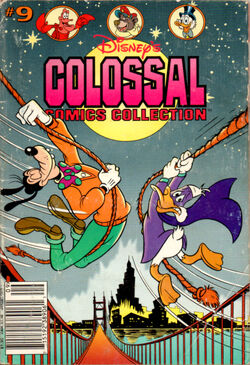 Disney's Colossal Comics Collection was a bimonthly digest-sized comic book that was published by the Walt Disney Company from October 1991 to May 1993. Following the Disney Comics Implosion of October 1991, it was an anthology comic not unlike Disney's flagship comic, Walt Disney's Comics and Stories, except that it focused almost entirely on comics based on newer Disney properties, primarily the Disney Afternoon-Era shows.
Thoughout its ten-issue run, the digest mainly featured reprints of stories from Disney Adventures, and later on, short stories from other Disney Comics titles, such as The Little Mermaid mini-series and the recently-cancelled titles. However, it later also featured stories that had never before been published in the US, like the 41-page TaleSpin story "The Volcano of Gold" (originally published in Disney Club #4 in France) in issue #5. Issue #9 featured a new Goof Troop comic not printed in any Disney Adventures issue.
Unfortunately, the digest was cancelled when Disney Comics went defunct in May 1993.
Issue guide
Edit
Cover
Issue #
Date
1
October 1991
Featured Disney Afternoon comics:

DuckTales: "The Chaos Coin Catastrophe!" (reprinted from Disney Adventures Volume 1, Number 0)
Chip 'n' Dale Rescue Rangers: "The Great Grand Prix" (reprinted from Disney Adventures Volume 1, Number 2)
DuckTales: "The Dream Scheme" (reprinted from Disney Adventures Volume 1, Number 1)
Chip 'n' Dale Rescue Rangers: "New Kid on the Dock" (reprinted from Disney Adventures Volume 1, Number 7)
DuckTales: "The Family's Shrewd" (reprinted from Disney Adventures Volume 1, Number 3)
Chip 'n' Dale Rescue Rangers: "Gone with the Breeze" (reprinted from Disney Adventures Volume 1, Number 5)
DuckTales: "Grief at the Reef" (reprinted from Disney Adventures Volume 1, Number 8)
Chip 'n' Dale Rescue Rangers: "Knowledge is Power!" (reprinted from Disney Adventures Volume 1, Number 4)

2
January 1992
Featured Disney Afternoon comics:

DuckTales: "Criminal Convention" (reprinted from Disney Adventures Volume 1, Number 2)
Chip 'n' Dale Rescue Rangers: "Undermining Schemes" (reprinted from Disney Adventures Volume 1, Number 0)
TaleSpin: "Louie's Ristorante" (reprinted from Disney Adventures Volume 1, Number 1)
Chip 'n' Dale Rescue Rangers: "The Cheez-O Cheaters" (reprinted from Disney Adventures Volume 1, Number 1)
TaleSpin: "A Piece o'Da Action" (reprinted from Disney Adventures Volume 1, Number 5)
DuckTales: "The Relic Racket" (reprinted from Disney Adventures Volume 1, Number 1)

3
March 1992
Featured Disney Afternoon comics:

TaleSpin: "Little Plane of Horrors" (reprinted from Disney Adventures Volume 1, Number 4)
DuckTales: "Deep Sea Sewage" (reprinted from Disney Adventures Volume 1, Number 7)
Chip 'n' Dale Rescue Rangers: "Take This Ranger, Please" (reprinted from Disney Adventures Volume 1, Number 9)
TaleSpin: "Congratulations, You Have Just Won..." (reprinted from Disney Adventures Volume 1, Number 6)
Chip 'n' Dale Rescue Rangers: "Cobra Kadabra" (reprinted from Chip 'n' Dale Rescue Rangers #14)
DuckTales: "Mini Magica" (reprinted from Disney Adventures Volume 1, Number 7)
TaleSpin: "The Why of the Beholder" (reprinted from TaleSpin #1)
Chip 'n' Dale Rescue Rangers: "Oops!" (reprinted from Chip 'n' Dale Rescue Rangers: The Secret Casebook)
DuckTales: "Honey, I Shrunk the Ducks" (reprinted from Disney Adventures Volume 1, Number 9)
TaleSpin: "A Night on the Town" (reprinted from Disney Adventures Volume 1, Number 10)
Chip 'n' Dale Rescue Rangers: "Postage Don't" (reprinted from Disney Adventures Volume 1, Number 3)
TaleSpin: "Pirate for a Day" (reprinted from Disney Adventures Volume 1, Number 2)

4
May 1992
Featured Disney Afternoon comics:

Darkwing Duck: "Brawl in the Family" (reprinted from Darkwing Duck #1-4)

5
July 1992
Featured Disney Afternoon comics:

TaleSpin: "The Volcano of Gold!"
DuckTales: "The Great Chase" (reprinted from DuckTales #16)
Chip 'n' Dale Rescue Rangers: "Hounds Away!" (reprinted from Chip 'n' Dale Rescue Rangers: The Secret Casebook)
Darkwing Duck: "Just Us Justice Ducks - Part 1"

6
September 1992
Featured Disney Afternoon comics:

Darkwing Duck: "Just Us Justice Ducks - Part 2"
Chip 'n' Dale Rescue Rangers: "Home Wreckers" (reprinted from Disney Adventures Volume 1, Number 8)
DuckTales: "An Antsy Plan" (reprinted from DuckTales #16)
Chip 'n' Dale Rescue Rangers: "The Shark of the Park" (reprinted from Chip 'n' Dale Rescue Rangers #14)
TaleSpin: "Voodoo Baloo" (reprinted from Disney Adventures Volume 1, Number 8)

7
November 1992
Featured Disney Afternoon comics:

Darkwing Duck: "Let's Get Fiscal" (reprinted from Disney Adventures Volume 2, Number 1)
Chip 'n' Dale Rescue Rangers: "The Show Must BOW-WOW, ARF, WOOF, Go On YIP!" (reprinted from Chip 'n' Dale Rescue Rangers: The Secret Casebook)
TaleSpin: "The Rise of the Pillager Queen" (reprinted from Disney Adventures Volume 1, Number 12)
DuckTales: "Slugga Bubba" (reprinted from Disney Adventures Volume 1, Number 11)
Darkwing Duck: "Turnabout is F.O.W.L. Play" (reprinted from Disney Adventures Volume 2, Number 4)

8
January 1993
Featured Disney Afternoon comics:

Darkwing Duck: "Salad Daze" (reprinted from Disney Adventures Volume 2, Number 6)
Chip 'n' Dale Rescue Rangers: "Lights Out!" (reprinted from Chip 'n' Dale Rescue Rangers: The Secret Casebook)
DuckTales: "Dr. Duck and Scrooge McHyde" (reprinted from Disney Adventures Volume 1, Number 12)
TaleSpin: "Kung Fu Mistress" (reprinted from Disney Adventures Volume 1, Number 8)
Chip 'n' Dale Rescue Rangers: "The Mystery of the Missing Mice" (reprinted from Chip 'n' Dale Rescue Rangers #14)
Darkwing Duck: "Sara's Invention" (reprinted from Disney Adventures Volume 2, Number 7)

9
March 1993
Featured Disney Afternoon comics:

Goof Troop: "The Power of Positive Goofing"
Darkwing Duck: "Slip, Slidin' Away" (reprinted from Disney Adventures Volume 2, Number 10)
TaleSpin: "The Dogs of War!" (reprinted from Disney Adventures Volume 2, Number 1)

10
May 1993
Featured Disney Afternoon comics:

Darkwing Duck: "Hero for a Day" (reprinted from Disney Adventures Volume 2, Number 12)
DuckTales: "Dime Crime" (reprinted from Disney Adventures Volume 2, Number 4)
Chip 'n' Dale Rescue Rangers: "Bones Away!" (reprinted from Chip 'n' Dale Rescue Rangers: The Secret Casebook)
TaleSpin: "The Ruby Monkey Head" (reprinted from Disney Adventures Volume 1, Number 9)
Chip 'n' Dale Rescue Rangers: "All That Glitters is Not Banana" (reprinted from Chip 'n' Dale Rescue Rangers: The Secret Casebook)
Goof Troop: "Pavlov's Goof" (reprinted from Disney Adventures Volume 2, Number 12)
External links
Edit